Welcome to the USS Patriot B!
Welcome to the most awesome ship Star Fleet has ever known, the USS Patriot B! If you think you have what it takes to serve aboard the mighty Patriot, join today. If not thank's for looking.

For more info about us and our open style of role playing/creative writing, click on the "sim" tab above. There you'll find our official rules and a list of recommendations regarding participation in the sim.If you would like to give it a go with us, click "join" on the side menu, and we'll see you onboard!

The USS Patriot B is a proud member of Independence Fleet.


It is five years after the dominion war, the Federation and Klingon empire both find themselves in a weakened state. As the Klingon empire turns inward, the Federation is left with the increase difficult situation of clearing up after the war and dealing with a resurgent Cardassain Union.
However the situation in the Federation itself is hardly picture perfect. Across many Federation worlds people are questioning the future of the Federation itself. The Federation's newest member continues to cause trouble as Bajor continues to colonize the badlands, whether the Cardassians or ex-Maquis colonies want it or not.
Into this this situation is thrust the USS Patriot, a lone vestige of hope in a sea of madness.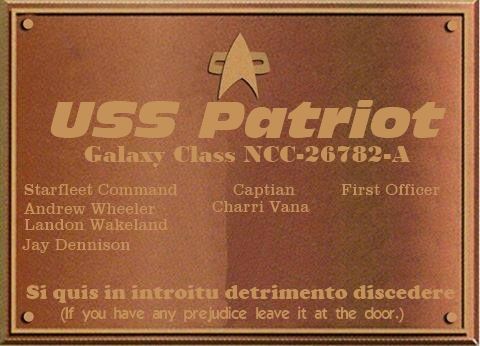 This ship does not follow any of the expanded universe.

Please be aware that the Captain is on GMT, but will try to respond to email and request within 24 hours
Latest News
Posted on Tue May 8th, 2018 @ 7:19pm by Lieutenant Llewella Rhamantus in Sim Announcement
https://discord.gg/PxZz8sX

This is the USS Patriot Discord server.

Please register through this link and I can add you to your relevant departments. if you cant, Add me Aspiegirl28 #5919 as a friend, and i'll add you that way.
Posted on Tue Nov 29th, 2016 @ 8:51pm by Lieutenant Llewella Rhamantus in General News
sorry all that i have been quiet, I have been busy.

Please Tag me on FAcebook if there are tags for me on the posts for me

i'll respond to them as soon as possible
Posted on Fri May 13th, 2016 @ 12:05am by Captain Charri Vana in General News
hi everyone sorry for no activity been busy finishing university will get some JP up ASAP.

James
Posted on Wed Nov 11th, 2015 @ 12:42am by Lieutenant Llewella Rhamantus in Out of Character
hi everyone

I am struggling at the moment with Depression and Anxiety on top of my Aspergers Syndrome. So I am sorry if I have taken forever to respond to Logs and i am sorry if I take too long to respond.

Please help by helping me see positivity and being patient. I don't mind a prod or two either

Thanks
Posted on Wed Jul 22nd, 2015 @ 10:10pm by Captain Charri Vana in General News
Hi Everyone

A quick message. First of all I would like to give everyone a big thank you for playing on the patriot. With out you this wouldn't be possible. I would like to apologise for my slowness with posts lately, hopefully I'll be much quicker now.

We should also be receiving a upgrade on the nova system. I'll post more information soon.

All the best James